It all began in 1991…
Mark Thistel (then 25) and Robyne Lyles (then 23) decided to add "business partnership" to their four-month old "life partnership." They incorporated themselves as "Freedom Services Association,"  with a mission to provide transportation, home maintenance, and sundry independence services to an ever-aging population.
Ah, youth!  It didn't work — at least not as designed.   
It turns out we (Mark and Robyne) didn't know what we were doing, or who our target markets really were, or what our services actually cost to provide. And yet we had unbridled confidence in our ability to somehow, some way, figure out the answers to these questions. 
Of our many advertised services (remember this, new young entrepreneurs: A jack of all trades is a master of none), we were really finding traction in only one: Transportation. That's what people needed, and the market at the time was divided between two unappealing options: taxis and limo services, neither of which were particularly desirable. We came up with an interesting, middle-ground transportation option: on-time and professional, but no wet bar in the back or guy dressed like Liberace behind the wheel. Make it affordable, but respectable. The kind of service that real people — by which we meant people like us — could relate to. 
Robyne went away to the University of Chicago to get an MBA, and came back with some game-changing ideas that put the "model" in our new "business model" for Freedom Services (we dropped the Association part). That's when things really got going, with coding systems that yielded metrics measuring quality, efficiency, and cost.  Everything was finally in place, the world was our oyster.   
Just in time for 9/11.  But we, like the rest of the country, got through that. It still hurts to think about it, but we got through it.
2008
The Great Recession. We got through that too. Without laying off anyone at anytime.
2010
We changed our name to "FreedomCar", which finally spoke directly about what we do for a living. That was big, overdue, and Mark's finest achievement to-date (or so he continues to say). 
The dreaded 2020…
By the time COVID confined us all to our houses, FreedomCar had a staff of 52, a fleet of 26 vehicles, and a clientele of thousands. And we very much knew what we were doing. We had gone all-in on bricks and mortar while the rest of the economy went digital, then all-in on traditional employment when everyone else was going gig. We had no doubt that we would make it through the pandemic. Our clients were educated, smart people, and we'd learned a great deal from them, particularly in the field of public health. "Follow the science, put it into practice as soon as possible, and be brave about it" were the words we lived by.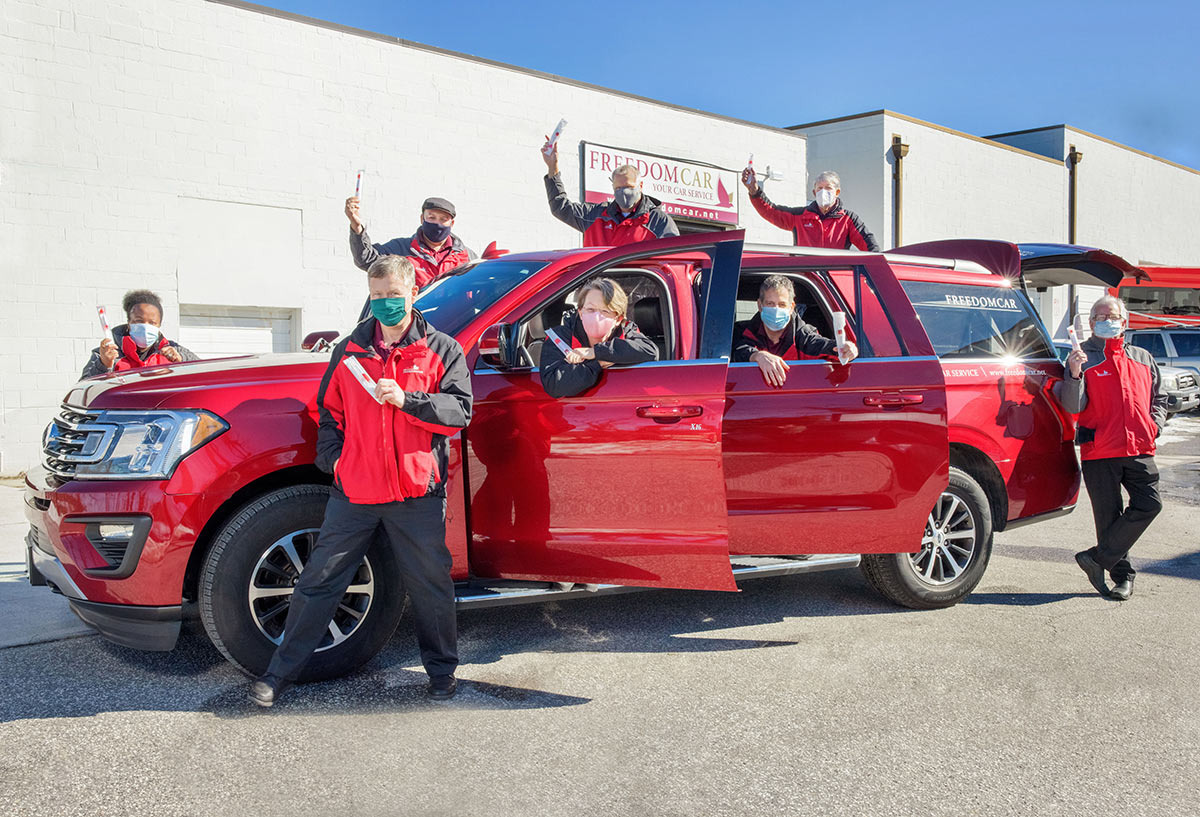 2021
As a consequence, we were just about the first company in Maryland to require that all FreedomCar staff be vaccinated against COVID (April, '21). Barely months later (August '21) we were definitely the first company in Maryland to require the same of our customers.   
Yes, we lost a few customers from those decisions, but the overall reaction was overwhelmingly positive. Customers appreciated our weekly testing, barriers in vehicles, rigorous time consuming cleaning between assignments, and the ever-trustworthy N95s. It was, and continues to be our goal to ensure that everyone who ever steps foot into a FreedomCar is safe and will remain safe.
today
We're bucking another trend: remote work. We have nothing against it, and more power to you if you can be as productive from home as you can at the office, but FreedomCar is very much a "present-and-accounted-for" operation. There's no such thing as a remote driver, and if our drivers have to show up at the office, then the rest of us have to, as well. Consequently, we've made the office a very nice place to be, and you should come by and see for yourself! We're on Falls Road just inside the Beltway. Look for the colorful buildings and all the red cars.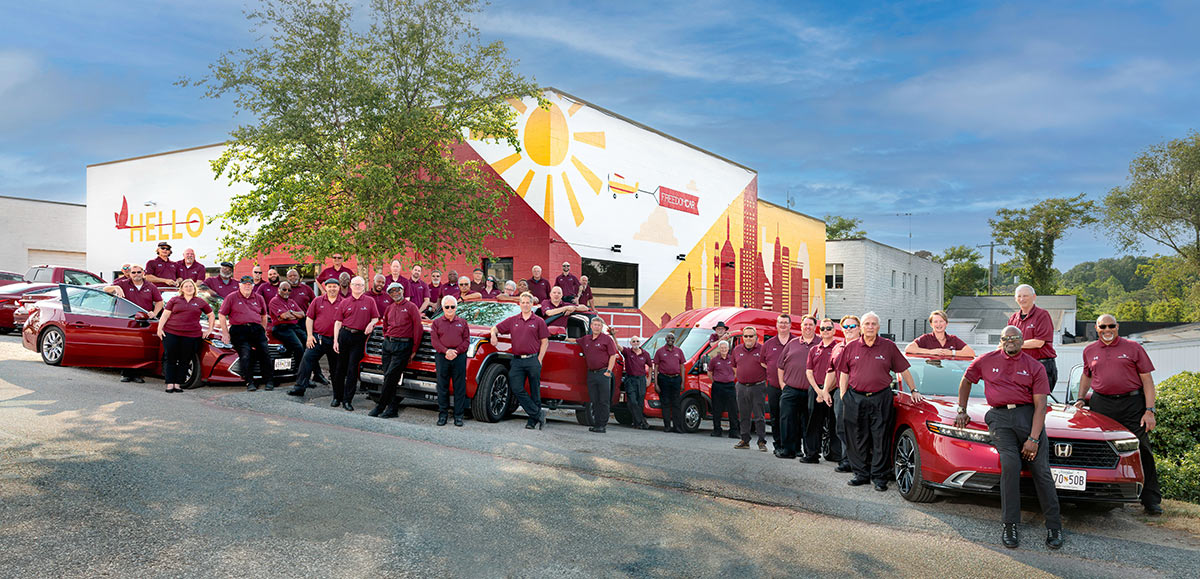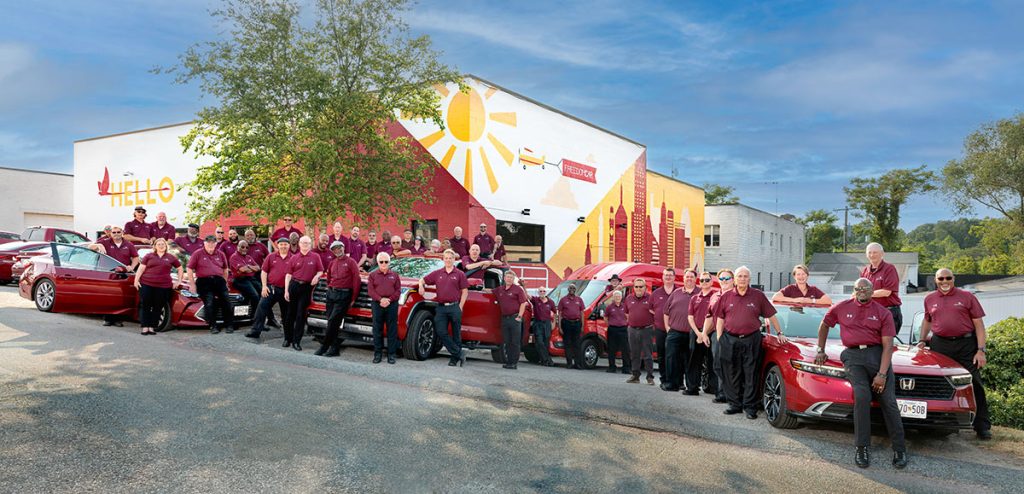 As we write this (August, '23), we're approaching 60 team members, 30 cars, and 130% of pre-COVID levels of business from over 4,000 residential households, 150 companies, and 300 non-profits. We're doing 3,000 trips a month of our high-trust chauffeured car services.
Whether it's for you, your child, your parent, or your colleague, we look forward to meeting you and getting you where you need to be.