For those who would like to know, what follows is a wholly accurate description of how COVID-19 changed the trajectory of our businesss and what we, at FreedomCar, have been doing since the world changed for all of us overnight. Nothing you're about to see in the photos we're sharing here is polished or produced. Just me with my iPhone and some screen shots, trying to document how we have chosen to swim in a sea turned upside down by a microbe…
---
March 6th, Friday
Average number of appointments (105) for the day. Like the Titanic, we've already hit the iceberg but no one understands that it's more than an inconvenience. FreedomCar employs 49 people and their lives are about to change. 
March 10, Tuesday
Our monthly staff meeting, always held on the second Tuesday of the month at 6 p.m. Attendance is mandatory. I had composed my agenda just a few days earlier. By the time Tuesday rolled around, here's what my outline looked like:
Mark's Agenda:
2019 Client Analysis

Great Shift Awards back on track

Use your back-up cameras!

The differences between us and Uber/Lyft!

COVID-19
Robyne and I ended the meeting saying that we couldn't be sure when the next one would be. Entire parts of our business model seemed to be shutting down right before our eyes. Within nine days, 38 of the people in the room would be furloughed.
March 16, Monday
We sent an email to every one of you, which is the last time you heard from us, giving notice that we would be operating on a restricted basis beginning immediately.
March 18, Wednesday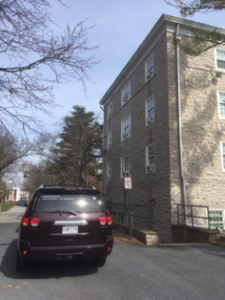 On this day last year, we had 106 assignments. On this day, we have 13, and one of them is for me. This photo is a FreedomCar SUV in Carlisle, PA, picking up our daughter and all her belongings at Dickinson College. Like so many of you, I was bringing my kid back from college mid-trimester, date of return unknown.
What I didn't know is that I'd be bringing home her boyfriend, as well. Fortunately, we like him a lot. Here they are demonstrating what happens when you can't go outside for weeks at a time. If we have to stay inside much longer I'll be trying this avocado-oatmeal facial treatment myself.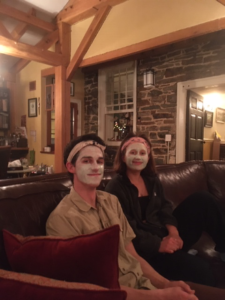 March 19, Thursday
Governor Hogan issues the stay at home order. For the previous 12 days we've been watching appointments by the hundreds cancel, perhaps a thousand of them. The Great Stillness begins. We remain open as an essential business, but we find ourselves called upon for urgent or essential service perhaps three or four times a day in a system built to handle 100 or more assignments each day. We worked through 9/11 and the Great Recession of 2007-08 without furloughing any employees. On this day we furlough 75% of our staff—38 people. 38 terrific people.
No picture or graphic can speak to this moment.
March 20, Friday
We begin to sell older vehicles. First one, then two, then three more. 29 vehicles is about 28 more than we need at this moment and for the foreseeable future. We calculate our resources, the result of many years of careful management by Robyne. We have enough for a few months at little or no revenue. Selling some assets may buy us a fourth.
March 21, Saturday
At home and in a reflective mood, I noticed the view from my dining room window. We're all in stasis. This is quarantine. I should be at work, my daughter should be in college, and I should not be having to figure out how many months of life our business has left. But the world continues to turn, the trees are budding out like nothing is wrong, and the nation has been here before, albeit 100 years ago. Got through it then…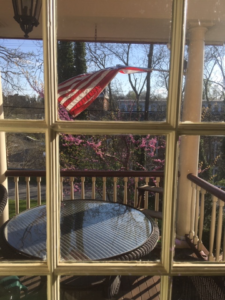 March 30, Monday
Five incoming phone lines are silent for hours at a time. There is no traffic to our website, just as there is no traffic on the roads. With nothing to do, our remaining core staff decide to do the only thing we can do: repaint the office! Normally a dapper-looking bunch, here we are in our painters' finest. Below from the left, that's Rich (Manager of Operations), Emily (Manager in charge of Reservations), Suzette (Manager in Charge of Physical Facilities), and Robyne (Co-Owner). I'm taking the photo.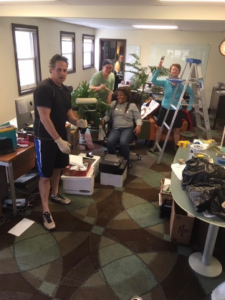 After cleaning up our very-much-missed furloughed colleague Dan's work station, we prepared it for his eventual return complete with photo so we might pretend that he's there and talk to him. Not a techie, that stapler is Dan's favorite piece of office equipment.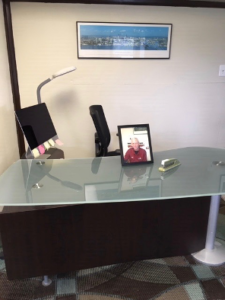 April 4, Saturday
We apply for a Paycheck Protection Program loan within hours of being able to do so. Robyne spent days on it, and is the hero of the hour. We are all grateful to her, and to Congress for providing us with a lifeline. We await acceptance, considered a near-certainty.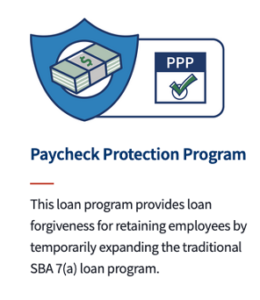 April 9, Thursday
22 days in. Still nothing to do except move vehicles around the parking lot, keeping them clean and operable should a miracle occur. Then a miracle occurs: Longtime client The Josie King Foundation asks us to deliver meals they're preparing for first responders! And they want to pay us!! It's purpose, a reason for being, and an opportunity to give back to a group of brave souls. We accept the mission, but we do not accept payment. Just can't do it. Foundation CEO Sorrel King and I arm wrestle over the agreement like friends over a dinner check after a couple cocktails. I win the first round (she agreed to let us do it for free), she won the game by going around me with a generous check slipped to a colleague when the month-long assignment was over. Of all the terrific things we've been asked to do over the years, this might be the one for which I am most grateful.
Here's a shot of Josie King Foundation CEO Sorrel King with driver Ed Lewandowski, the first of 250 meals delivered that day to three hospitals.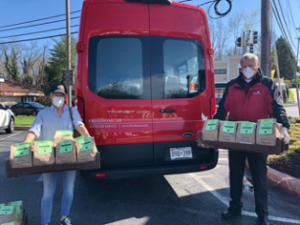 These deliveries went on throughout April and into May, ultimately serving most major hospitals in the area.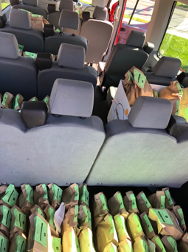 April 17, Friday
We find that errors (not ours) in the submission process for our PPP loan have delayed the application and there is now no money left. I alert the staff. We're on our own.
April 20, Monday
My 54th birthday, and 29 years to the day after Robyne and I started the business as Freedom Services Association out of the second floor guest bedroom of our Hampden row home. We've come so far, yet on this day we had revenue to equal a day in 1992. COVID is setting us back 28 years in business development. And yet it is giving as well. COVID-19 is teaching us how to operate in a different, more exacting environment. One where, amongst other things, distance matters and protocols are vital. We're only operating the big vehicles now, where passenger and driver can be 6' or more from one another. Everything is treated with an anti-microbial spray. Vehicles are recalled after every assignment for wipe-down with alcohol. Drivers are equipped with instant-read thermometers to go with their masks and gloves as part of a wholly new-to-us way of doing things. Passengers are asked politely to sit to the rear of any vehicle. Everyone cooperates. We begin to feel…ready…for whatever is to come.
April 30, Thursday
A reason to be happy. We are approved by the SBA on the second round for a PPP loan, plus a supplemental loan of longer term. Exhale. This means we can make it to the end of the year. We'll worry about how to pay all of this back at a later time.
May 8, Friday
I find myself driving someone to BWI just like old times except for the mask, the gloves, the temperature reading, the needlessly large vehicle, and the fear. Normally at BWI at 6:00 a.m. on a Friday morning it's three lanes deep of harried travelers. This morning? See below.
The car in the distance is a patrol car. I believe I was the only vehicle at the terminal until I left, when another FreedomCar showed up.
End of timeline: Memorial Day, May 25
Memorial Day seems the right date to end this timeline, not because it's Memorial Day but because it's the day George Floyd was killed in Minneapolis. For months, we have all shared a vulnerability that is new to us. We could lose anything and everything, in matter of days, weeks, perhaps a month or two if you're a commercial enterprise. We do expect that condition will end, perhaps not as soon as we'd like, but it will end. George Floyd reminded me that, for some of us, that vulnerability is a lifelong condition with a timeline to destruction measured in minutes. It's intolerable.  We can't talk in terms of recovery while this remains the case.
---
Here at FreedomCar, we're crawling back, client by client, job by job. We expect to be at 15% of 2019 activity levels this week. To survive, we need to be at 25% by October and 50% by January. No V-shaped recovery here. But we're happy, we're healthy, we've got resources, we've got a staff second to none, we've got clients second to none, and we've got a plan.
I wrote this on June 3rd. On that day, Rich made our first call to four members of furloughed staff to prepare them for a return to work. That's a moment to pause, reflect, and allow oneself to celebrate just long enough to think about how much we look forward to seeing you, our clients, very soon.
We thank you, we hope you are well, and we can't wait to see you. Carefully. But soon.
Mark & Robyne